Snow Sculptures part 1 - can you guess what they are?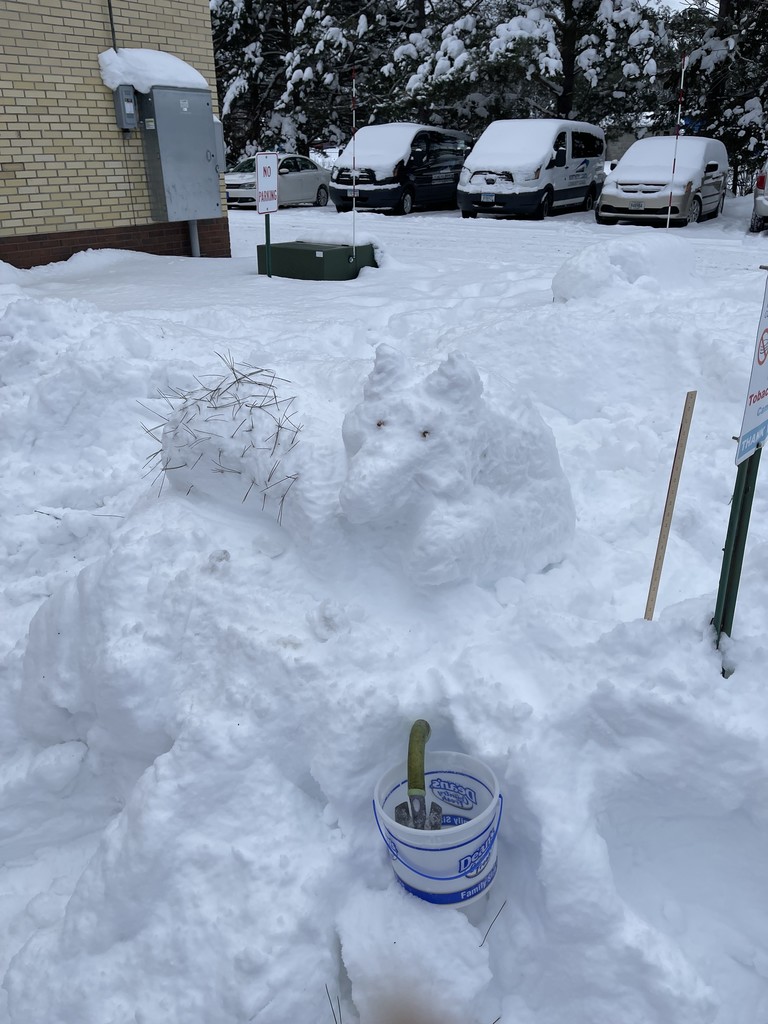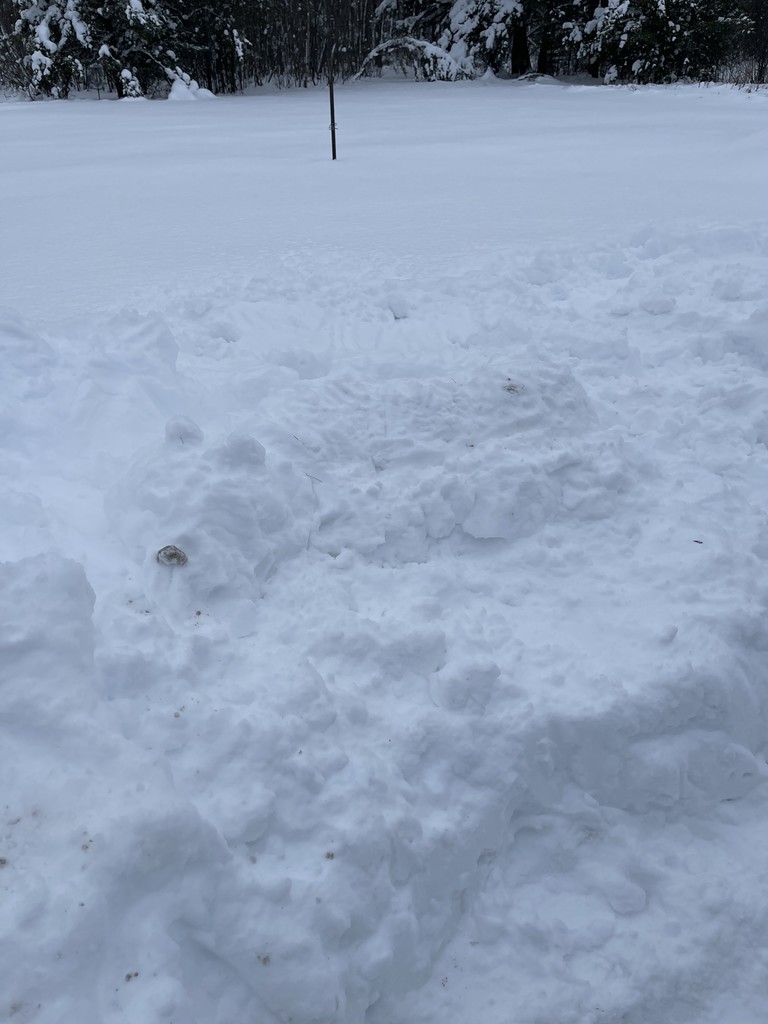 Winter Environmental Learning Part 2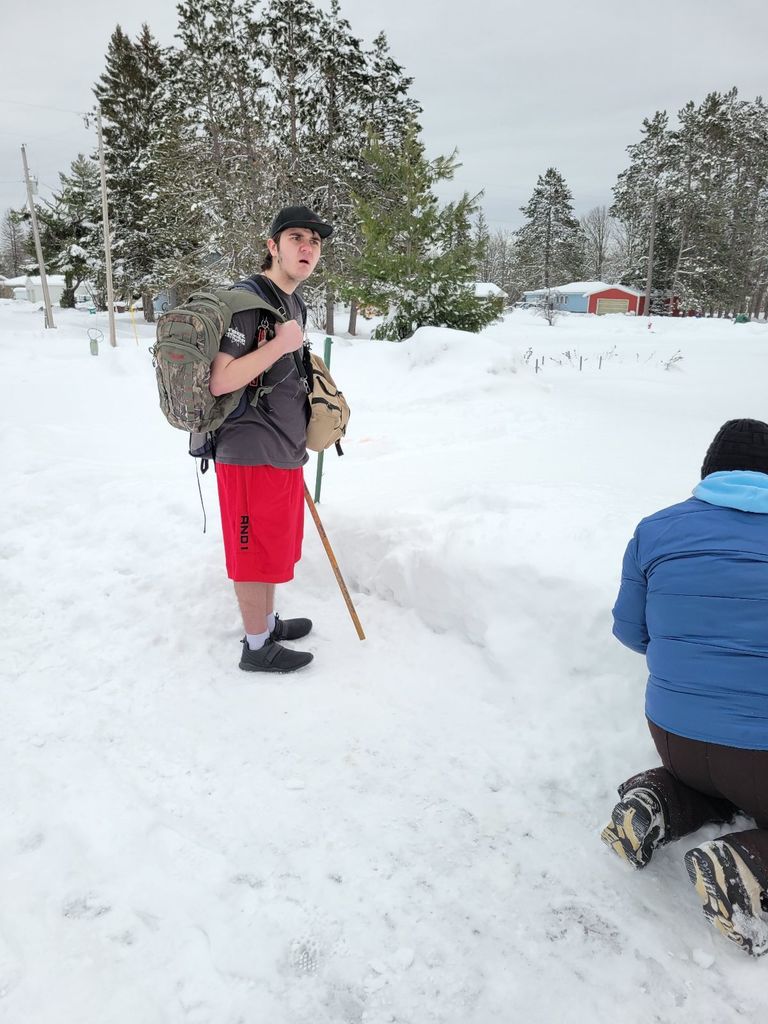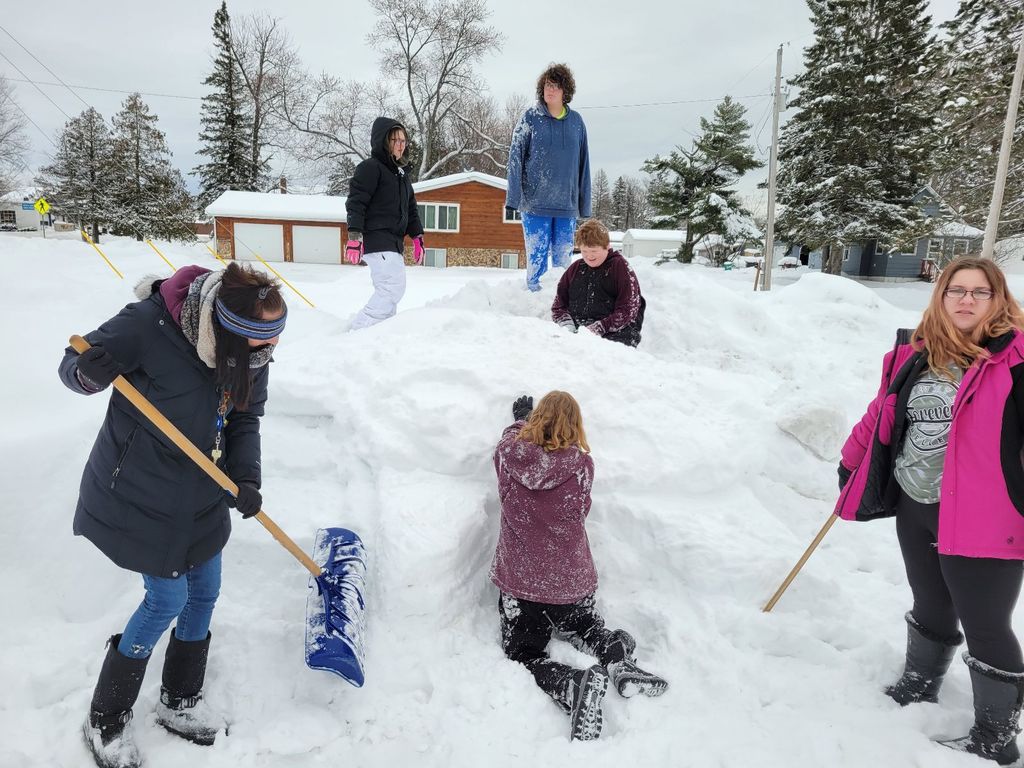 Students learned about winter survival, prep, hypothermia, frostbite treatment, cold weather investigation and building snow sculptures/snow art.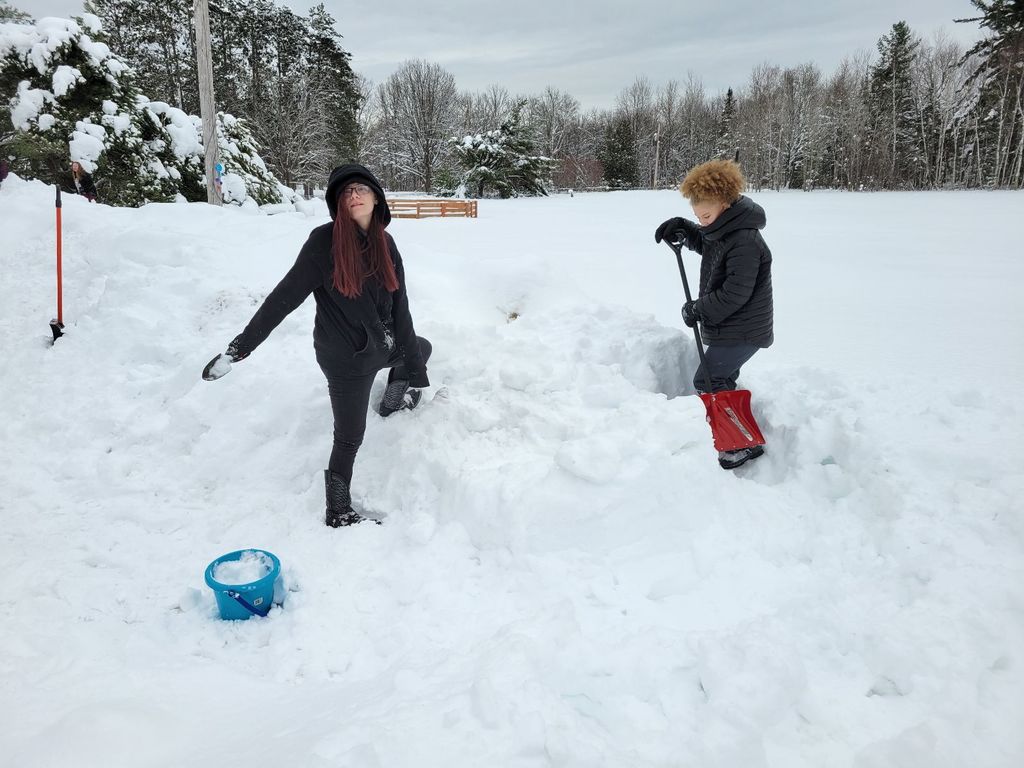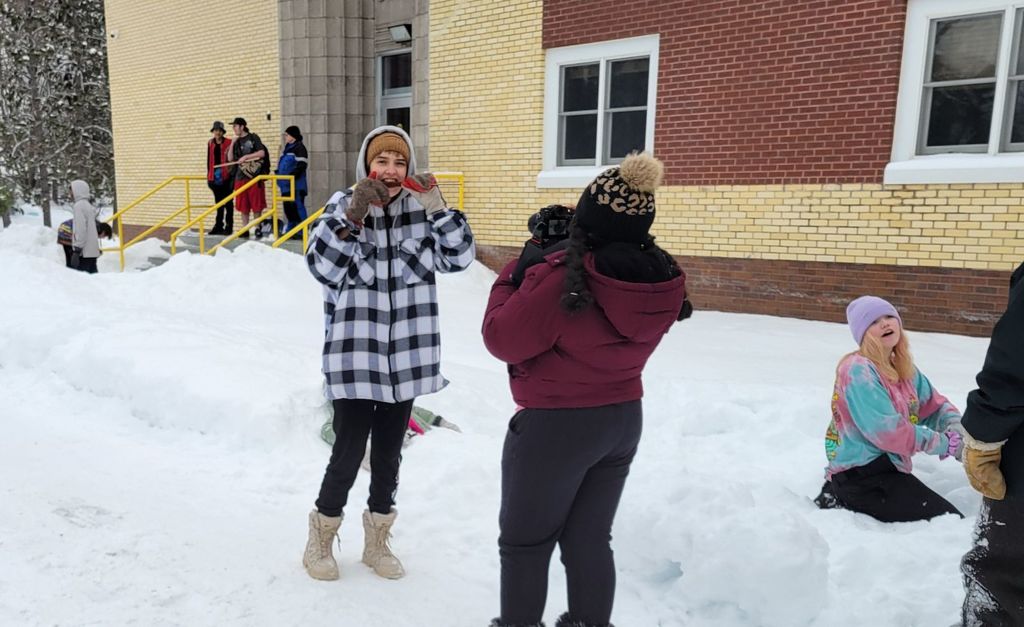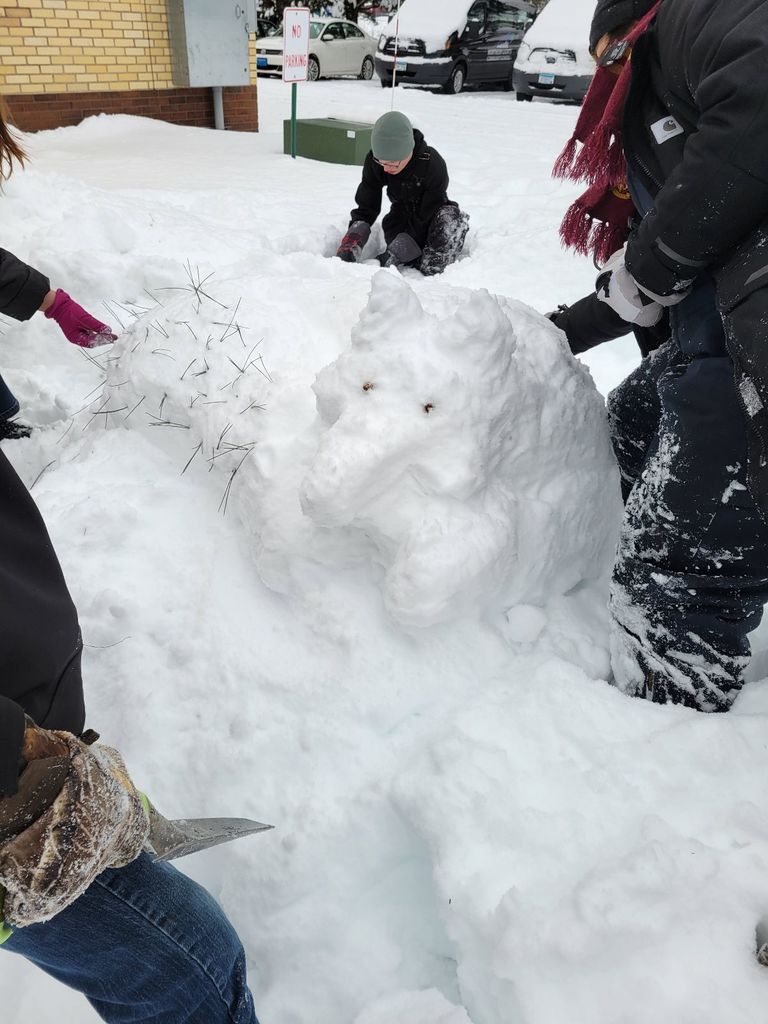 Tomorrow (Wed.) afternoon will involve some outdoor time for all students. Please bring appropriate winter gear: hats, gloves, jackets, boots, etc. Everyone will be outside at some point. No Crocs with socks!

Merry Christmas and Happy Holidays from Northern Lights Community School. Thank you, Donna's carolers for singing for us on Thursday. We hope you all have a happy and safe break!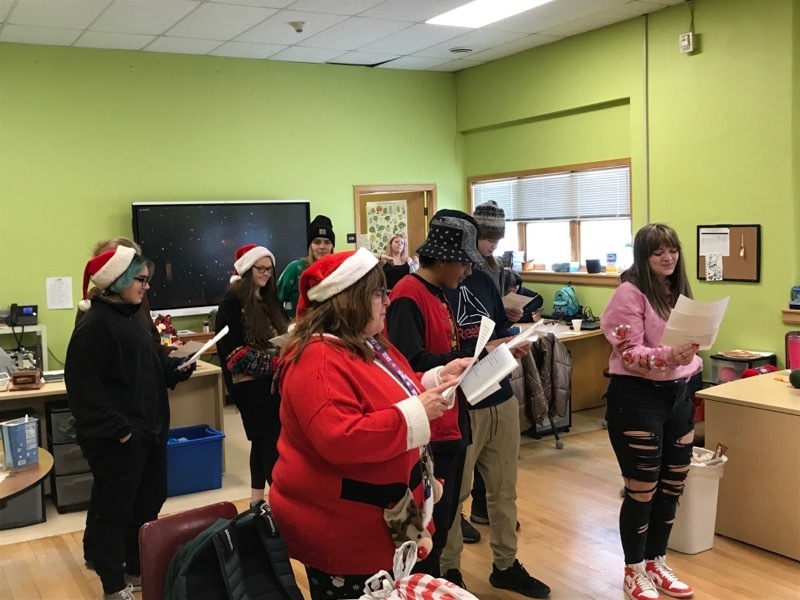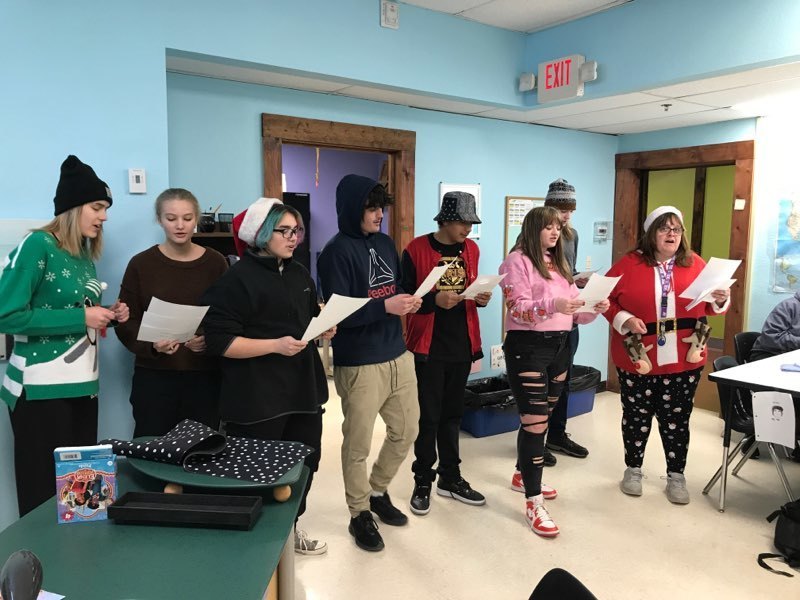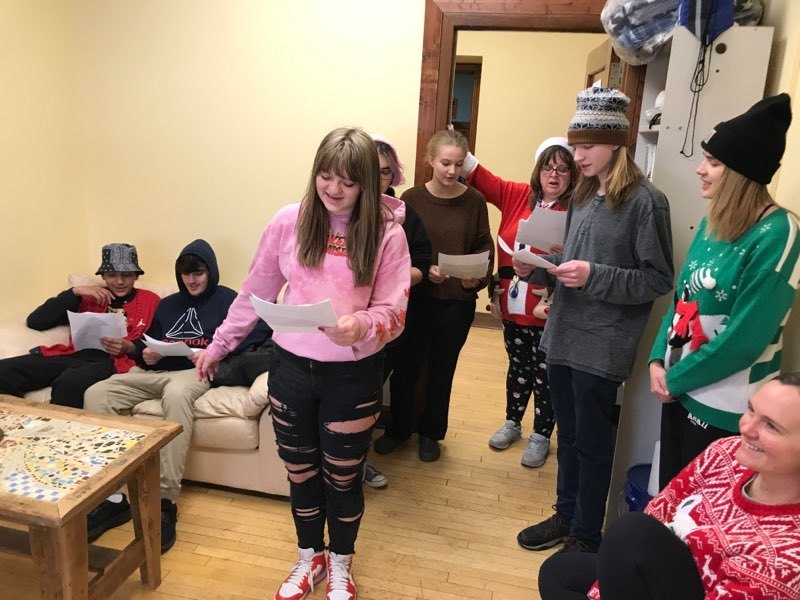 Thanks to all the folks who braved the cold and snow to attend our winter Presentation Night/conferences last night. The food was good and the band was great. Make plans to see us again in March!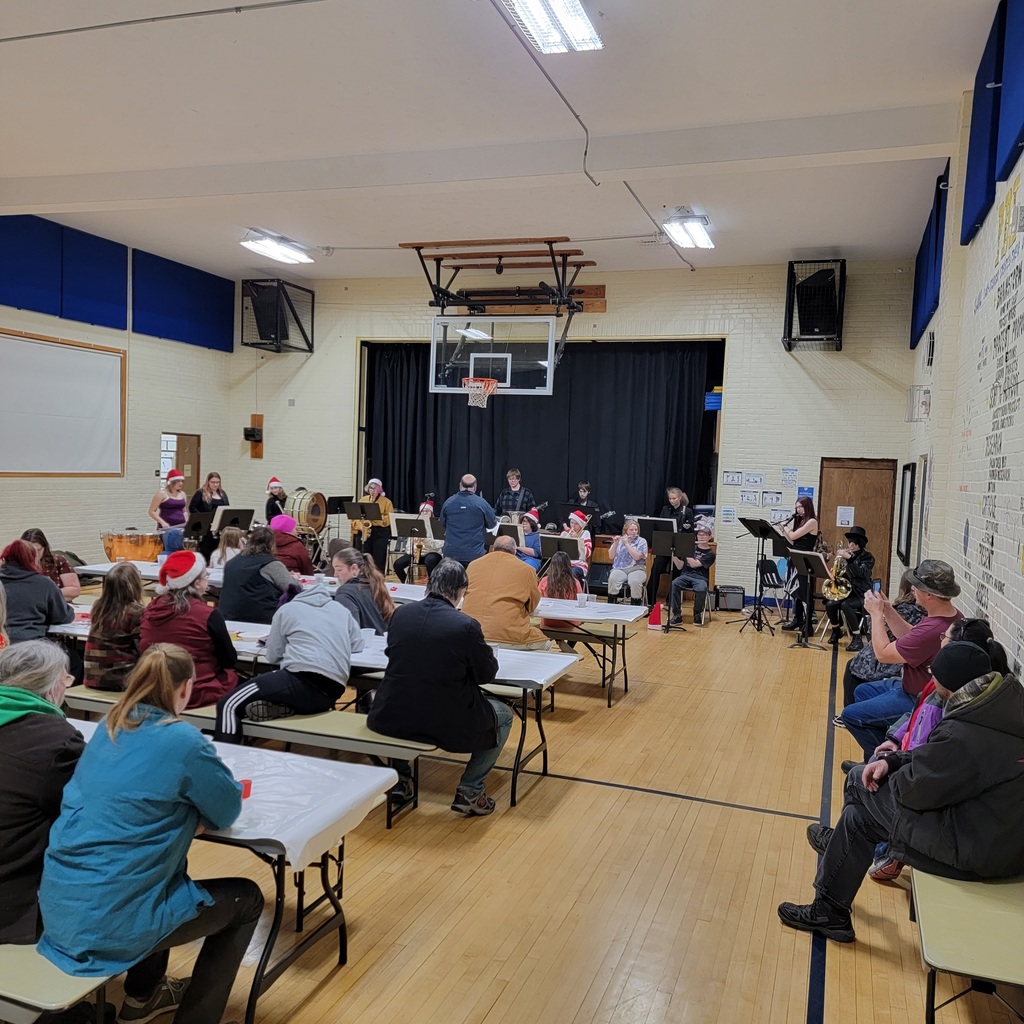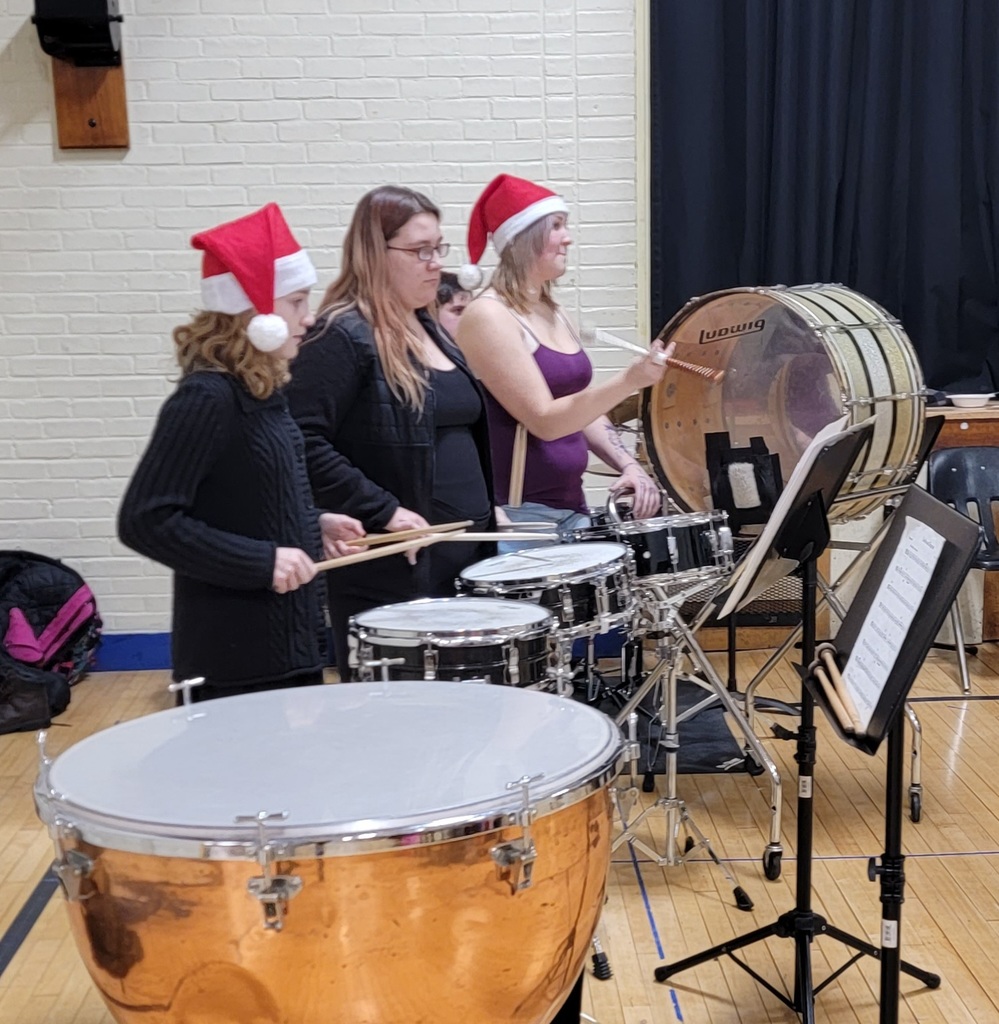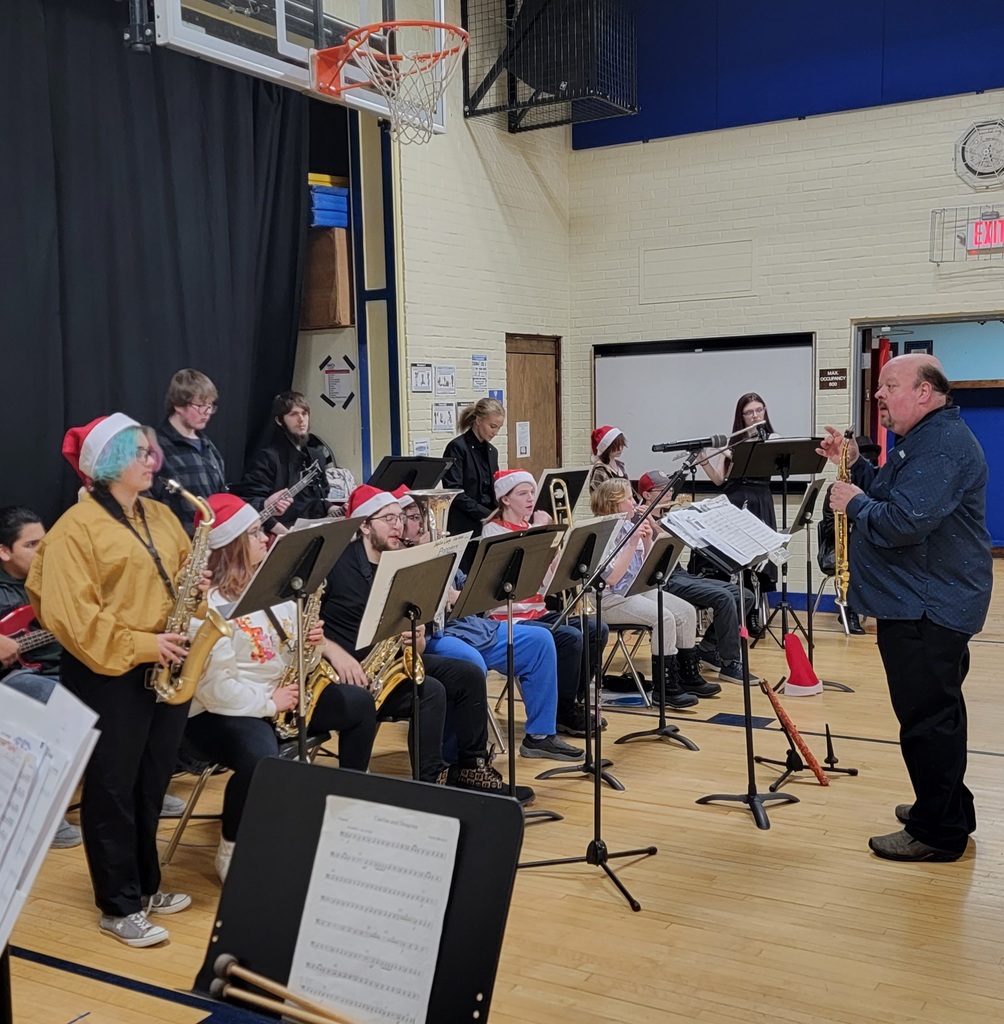 More doors...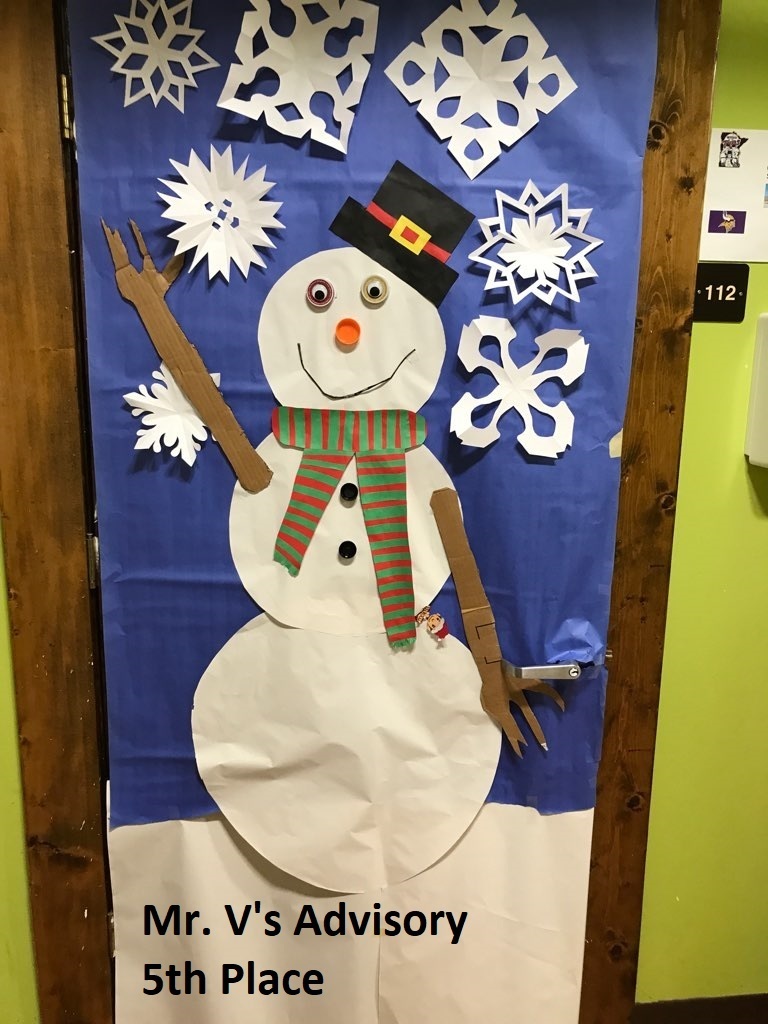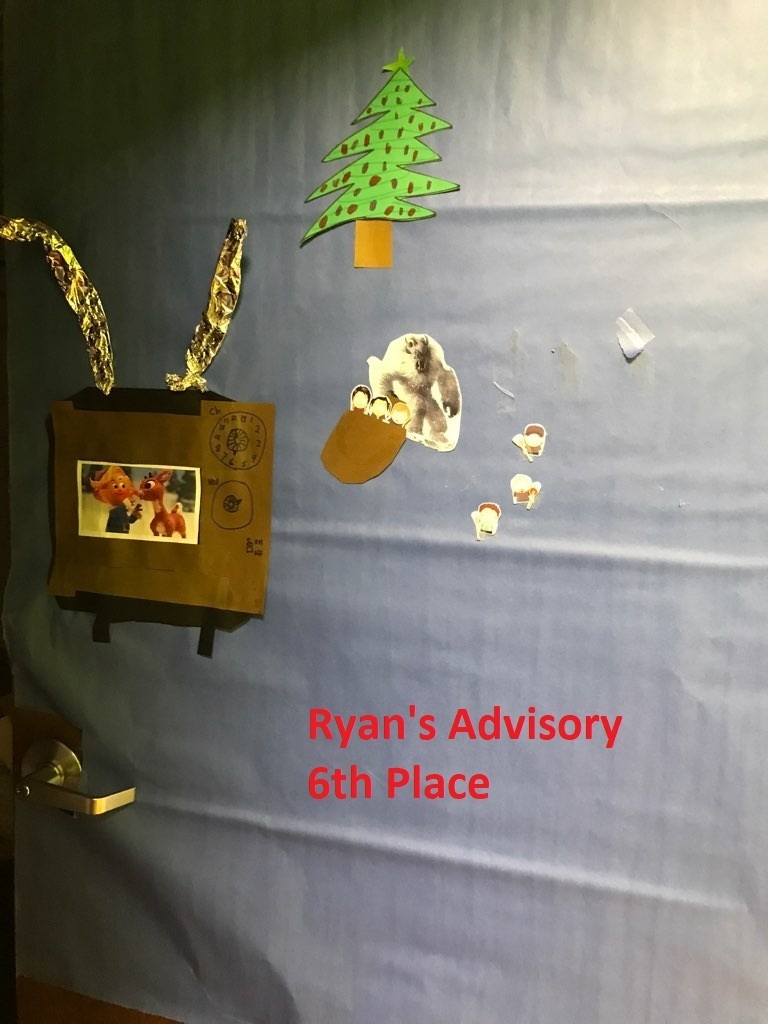 The holiday door decoration contest has been decided. The winners are... Ryan's advisory = 6th, Mr. V's = 5th, Miss B's = 4th, Karen's = 3rd, Donna's = 2nd, Josie's = 1st place! Congratulations!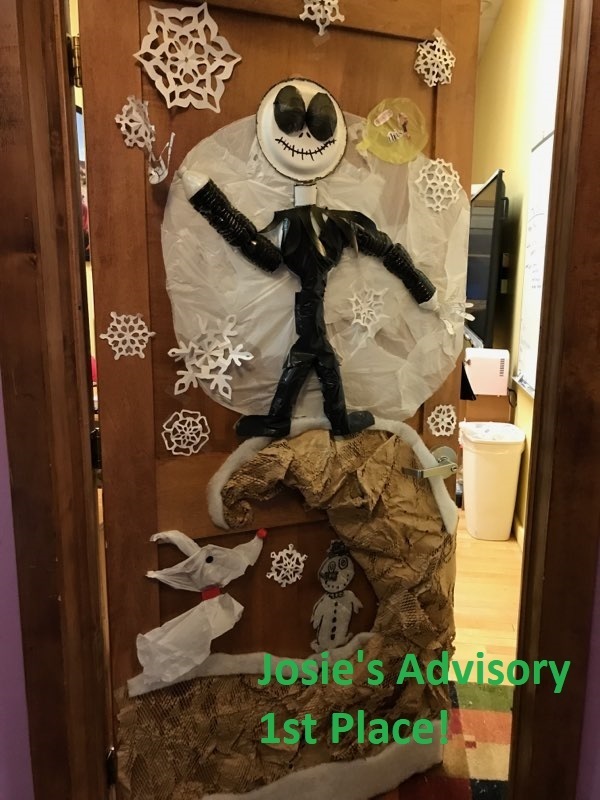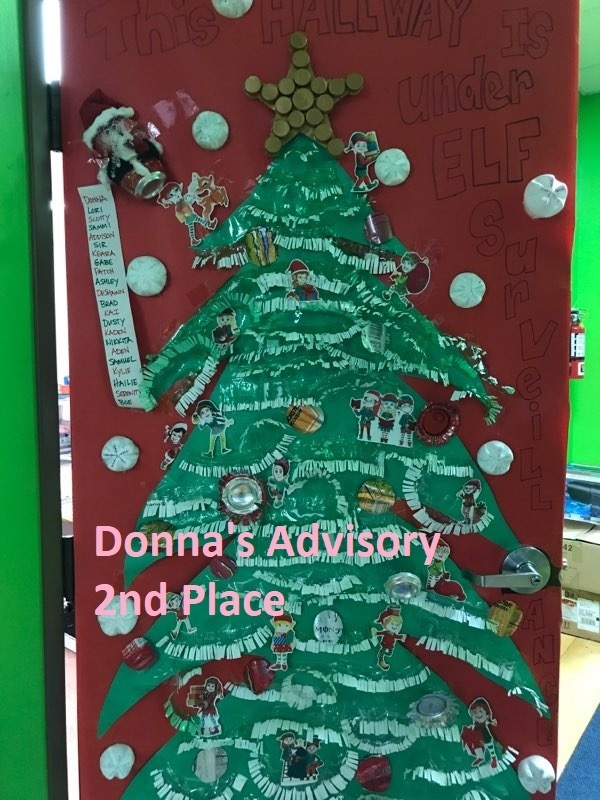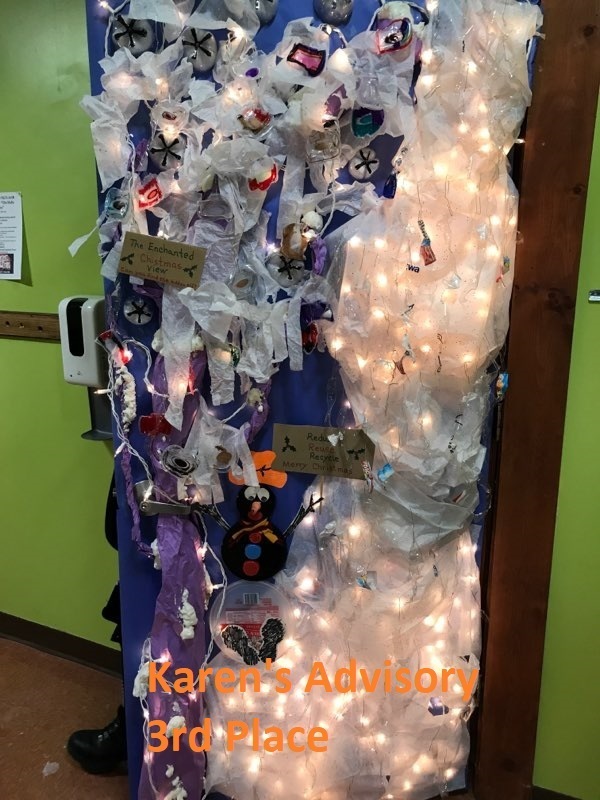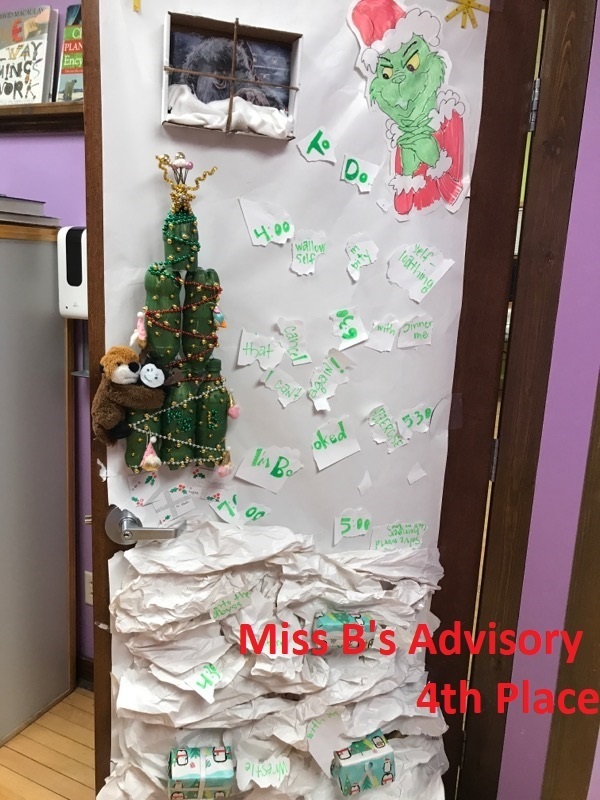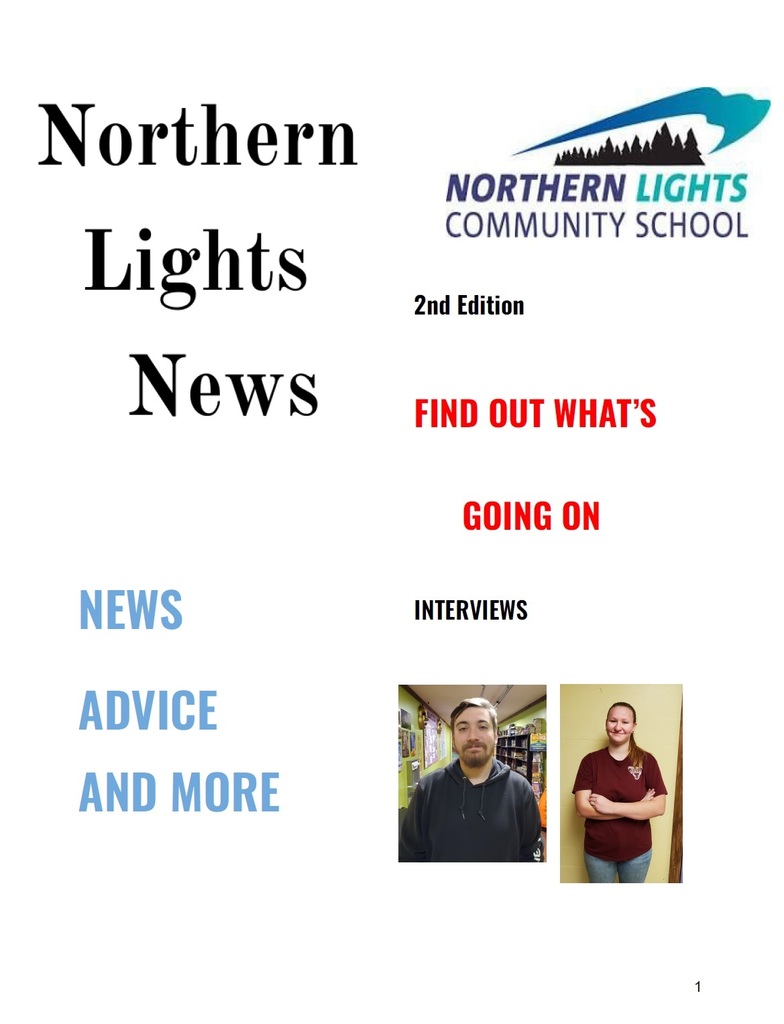 The NLCS elves have been busy making cookies. These tasty treats will be available for purchase tonight at conferences. (Correction) $20 per box and I only have 3 boxes. They have 25 cookies in them. one box of decorate your own for $20 with sugar cookies, 3 colors of frosting and 12 sugar cookies w/ sprinkles.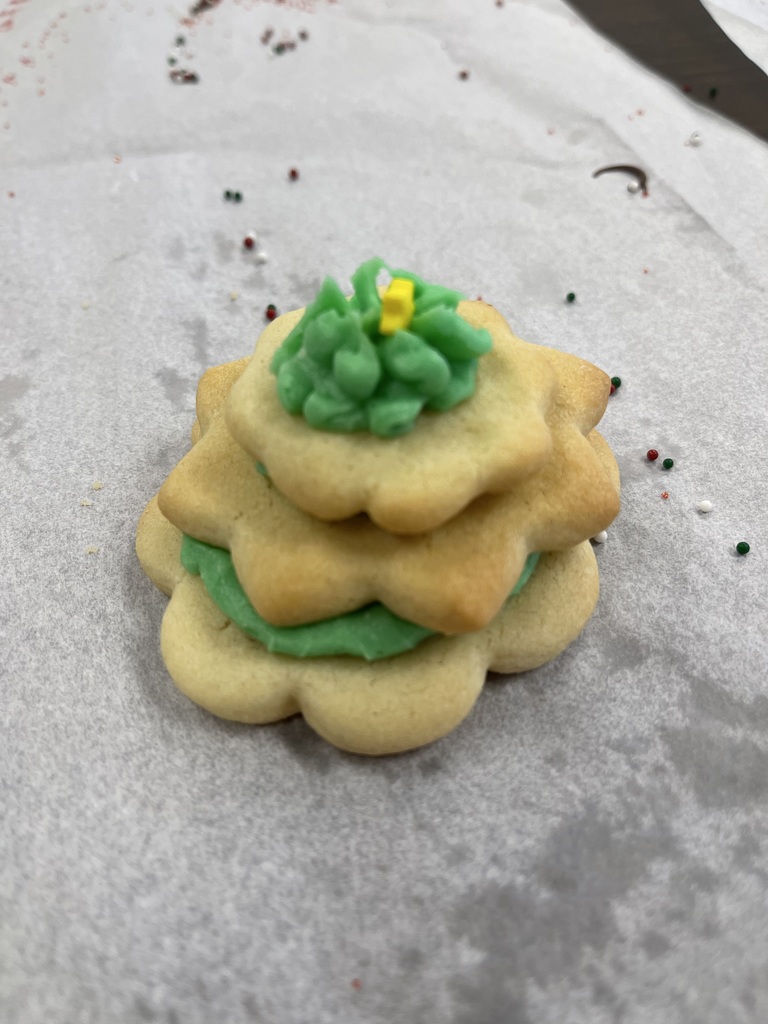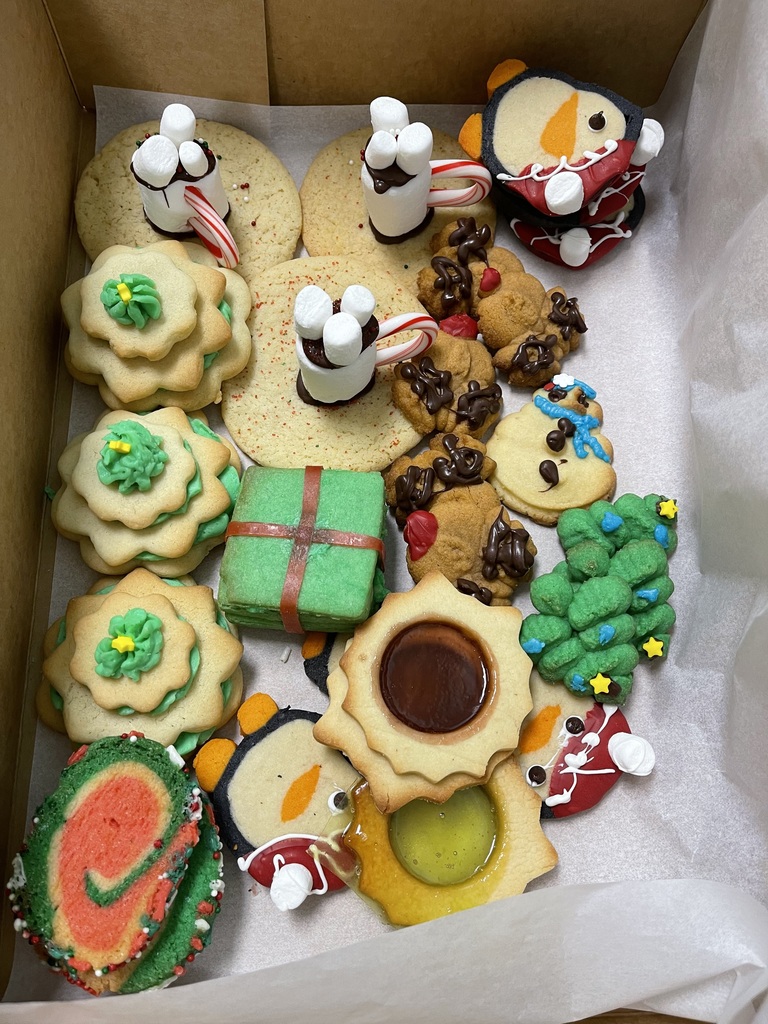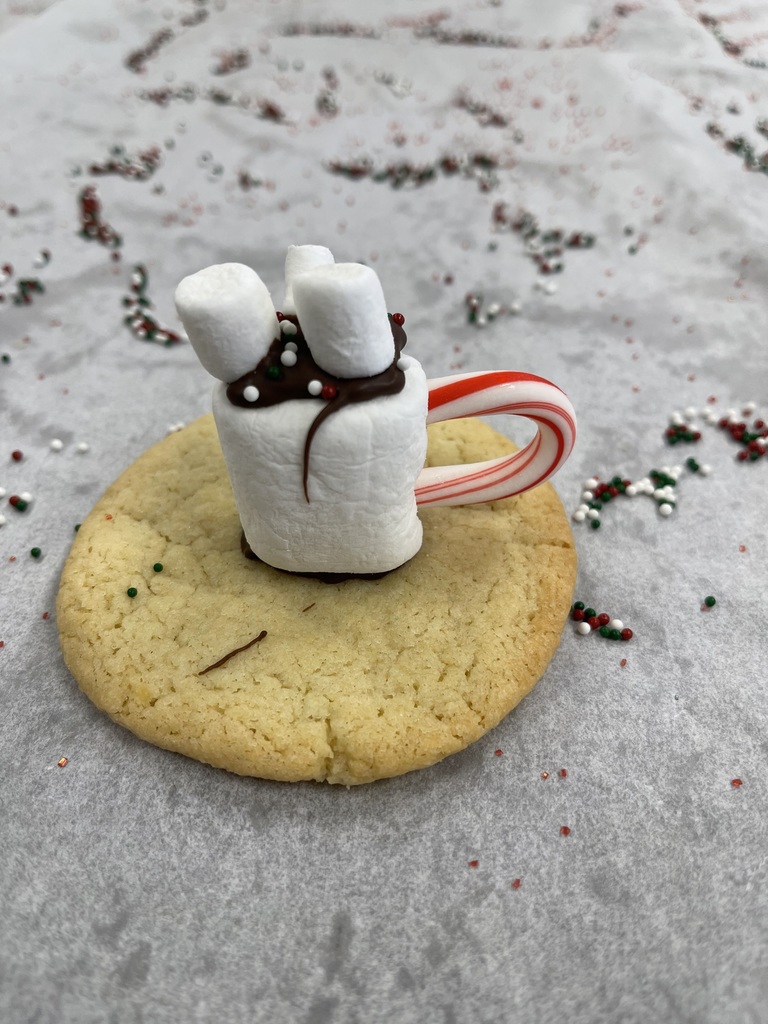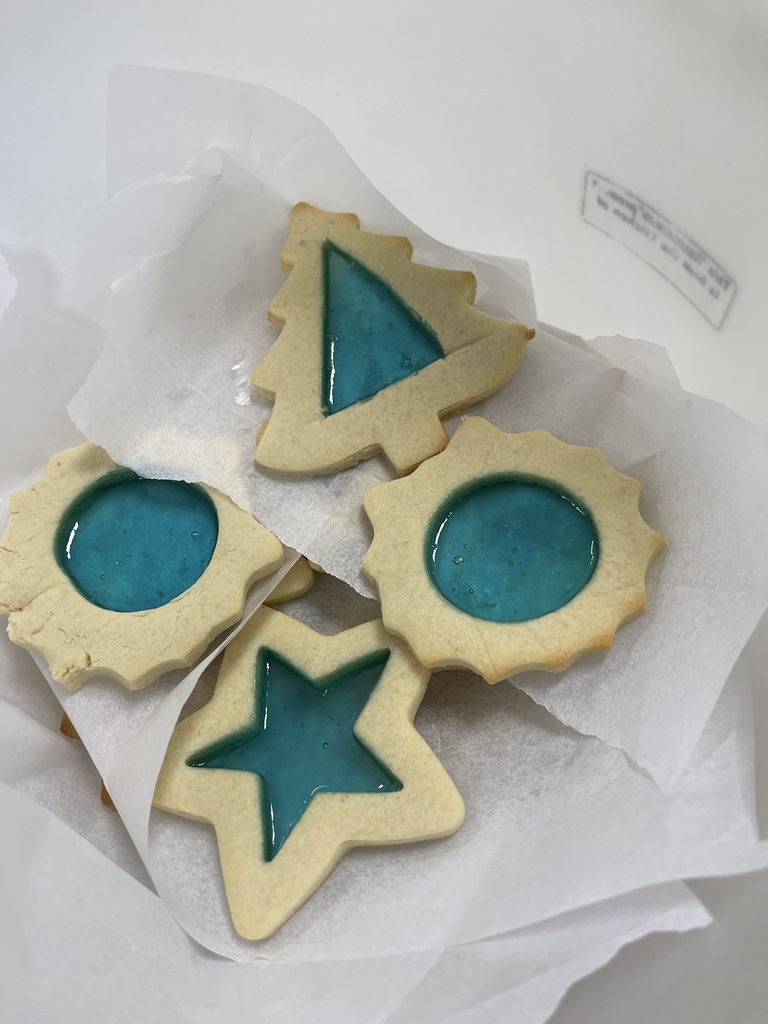 Reminder: Tonight is Presentation Night. 4:30 to 7:00 pm. Chili will be served. The band will perform. Cookies and crafts will be available for purchase. We look forward to seeing you.
The staff usually put on a weekly skit to help remind students of the good behavior we expect of them. This week is the last one of the 2022 year and it's a special one!
https://youtu.be/GTQOsbrTyVA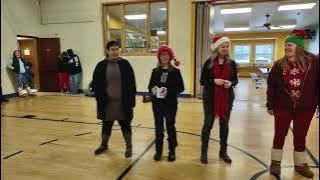 NLCS families and students. We are anticipating issues with side roads not being plowed by the time bus routes start in the morning. Due to this, we will have a 2 hour delayed start on Friday. If you ride a bus, please look for it 2 hours after your normal pickup time. Friday the 16th, will be a 2 hour delayed start.

Good evening NLCS. The National Weather Service is reporting even worse weather conditions starting tonight through noon tomorrow. No travel is advised. We will have another E Learning day for Thursday, December 15. Teachers will be on call for help as needed. Please stay safe.

Good evening Northern Lights families, students, and staff. Due to the weather tonight that will affect the driving in the morning and the fact that we have students and staff located in places like Duluth, Hibbing, Chisholm and Floodwood - Wednesday will be an E-Learning day. No in-person school tomorrow. All students should have assignments from their teachers and a way to contact them if they need help. Thank you for your patience and understanding. Please stay safe and warm.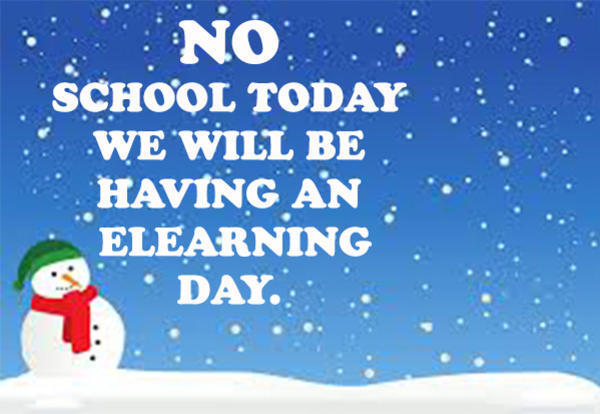 The trout eggs have arrived! NLCS participates in the MN DNR/Trout Unlimited Trout in the Classroom program. Each winter, we are given custody of a jar full of trout eggs that we are responsible to raise until they can be released in the spring in a nearby body of water. Stay tuned for pictures as they hatch and grow!
https://www.troutintheclassroom.org/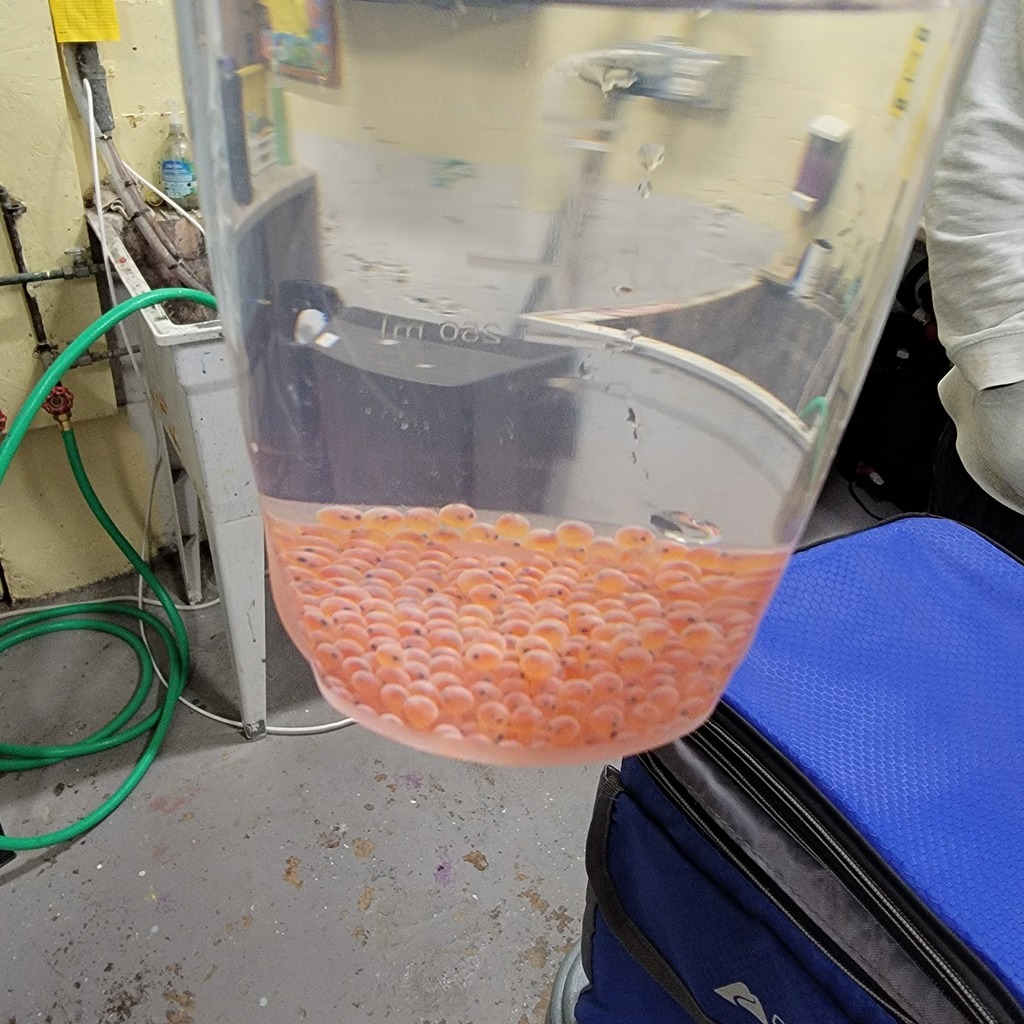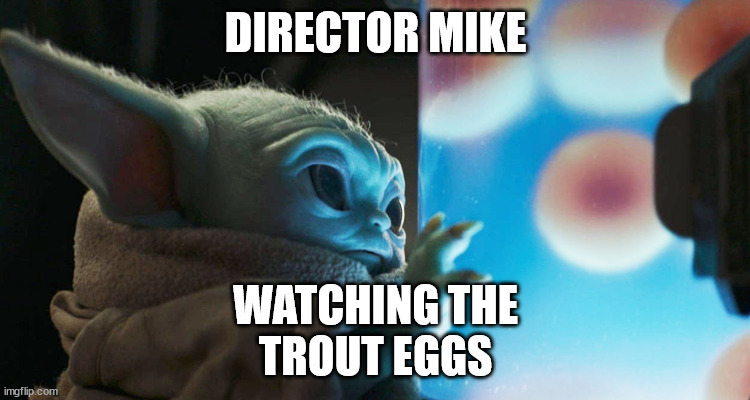 Annnnd...a few more.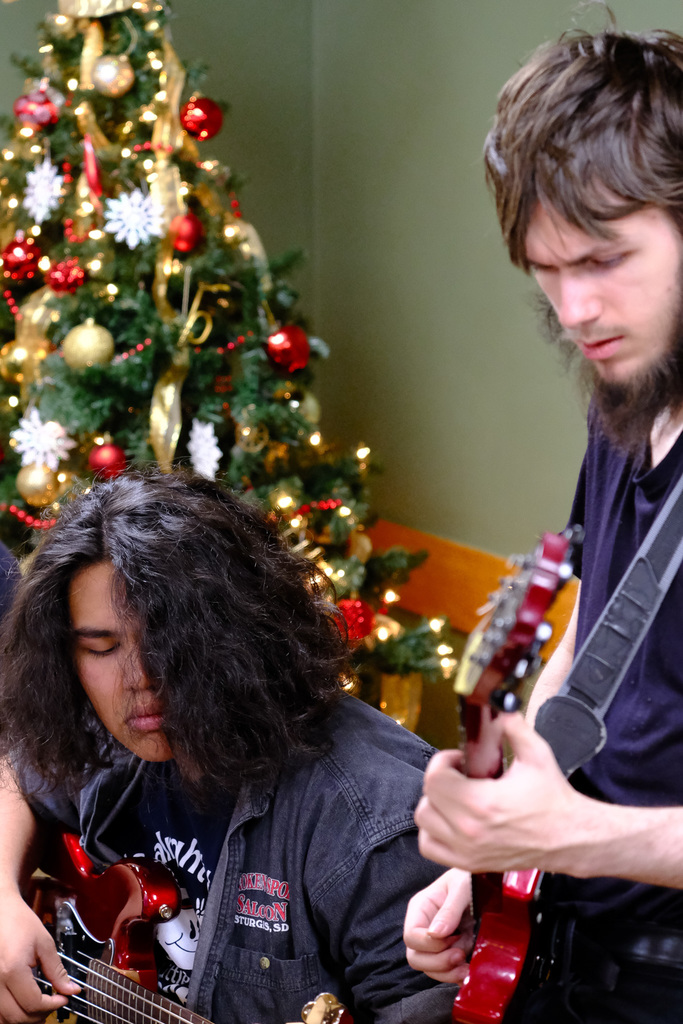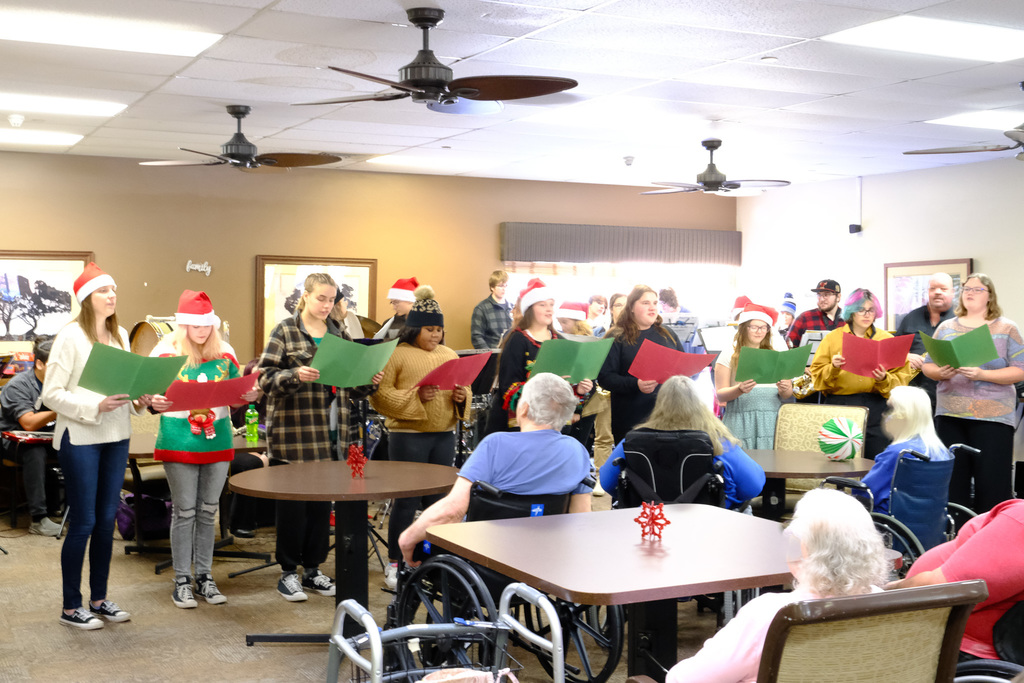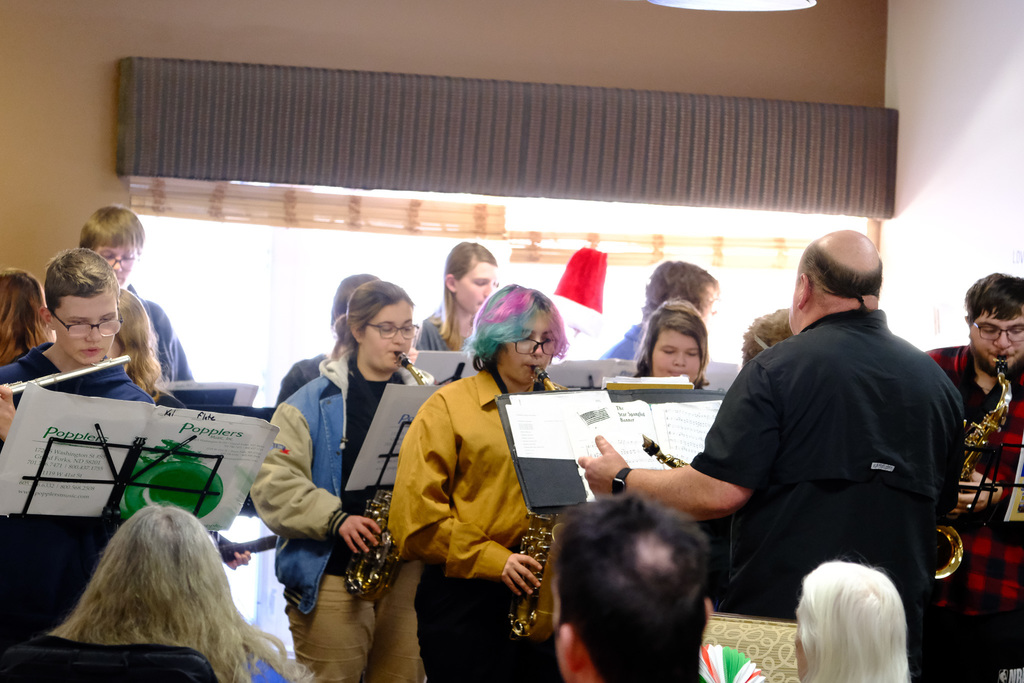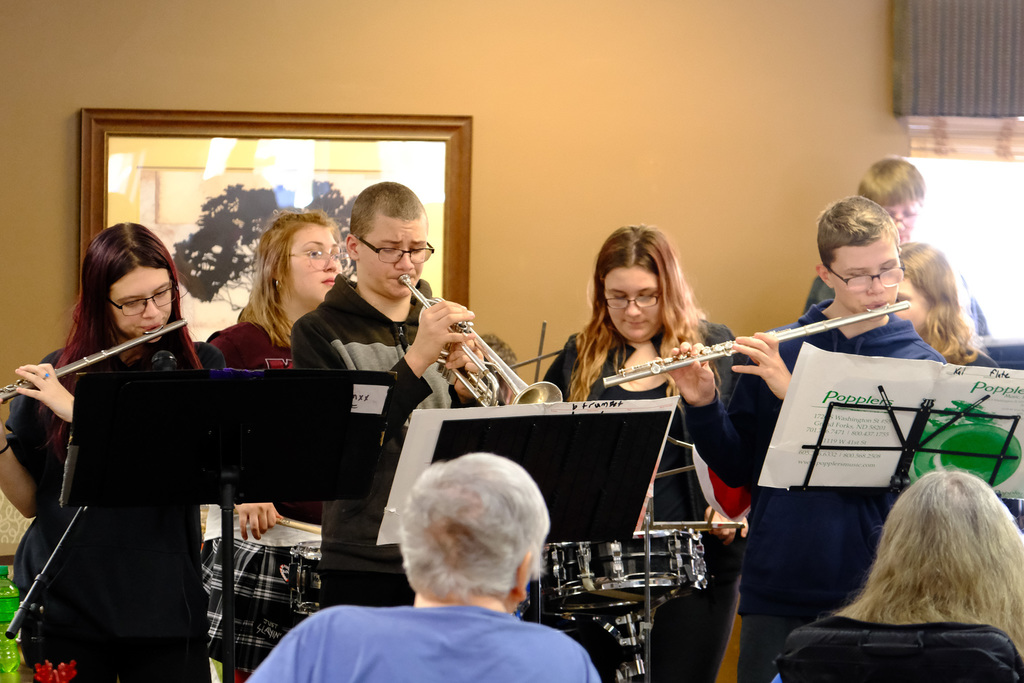 More choir and band pics...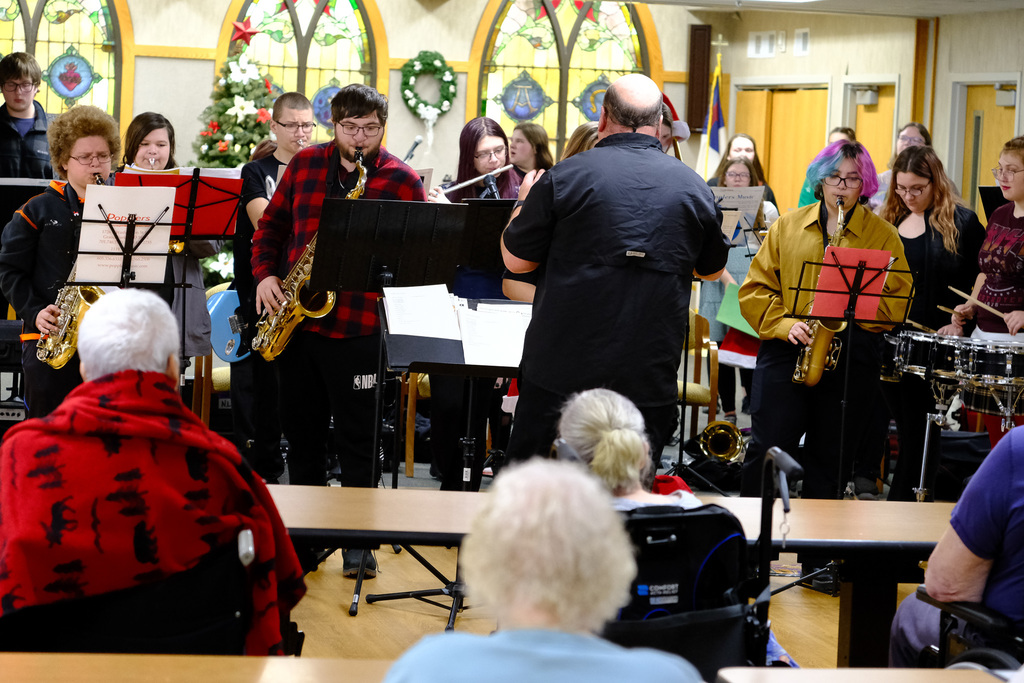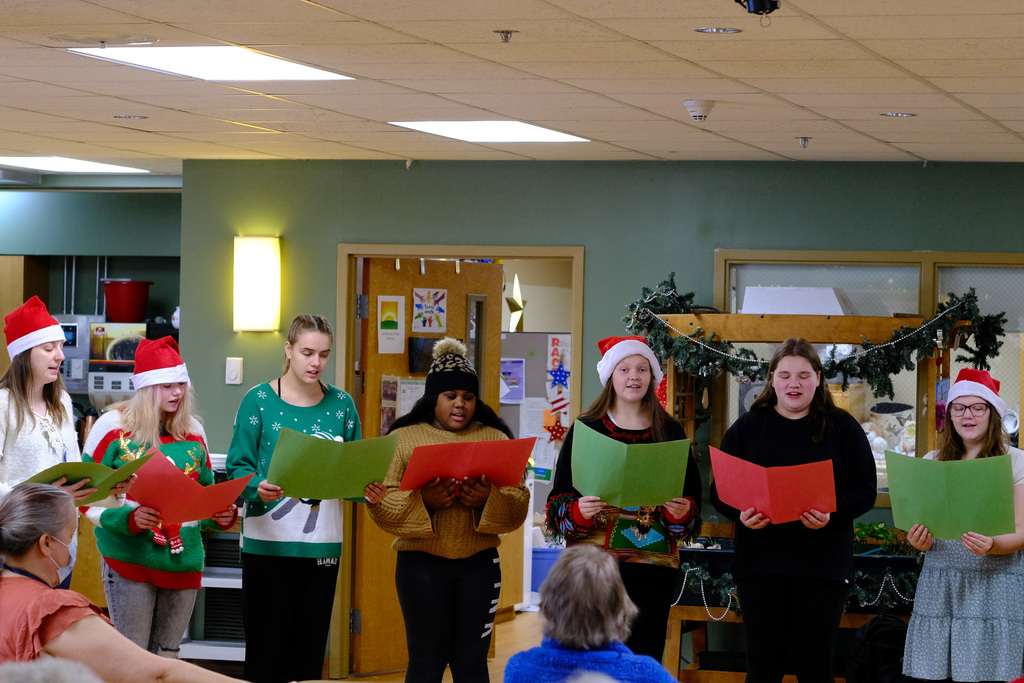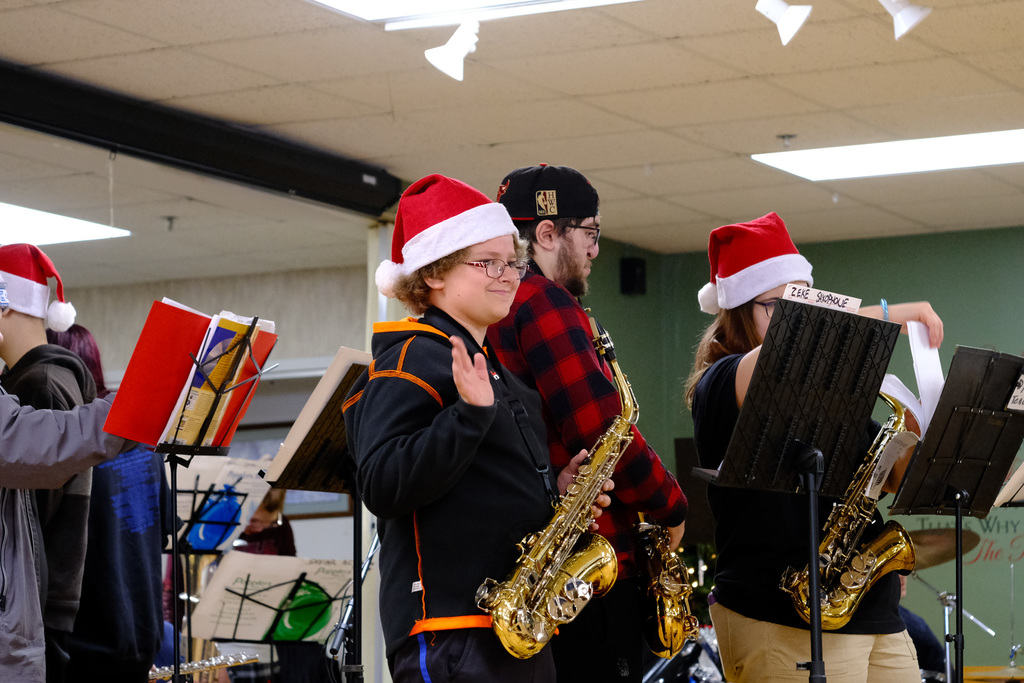 Yesterday was Community Service Day at NLCS. The band and choir club visited Grand Village and The Emeralds to entertain the residents with some holiday tunes.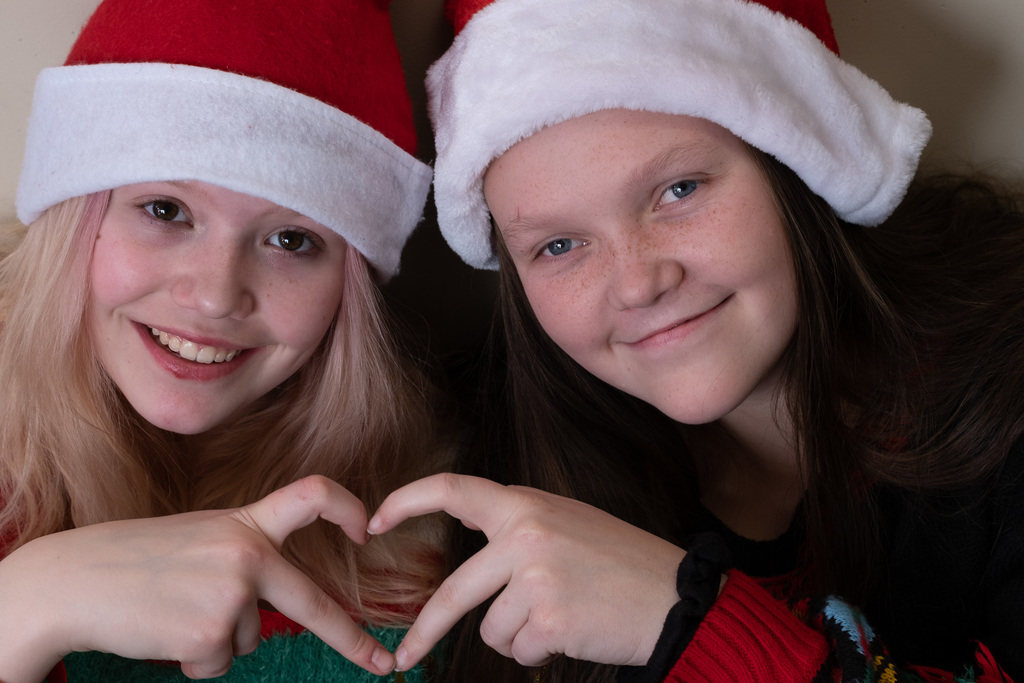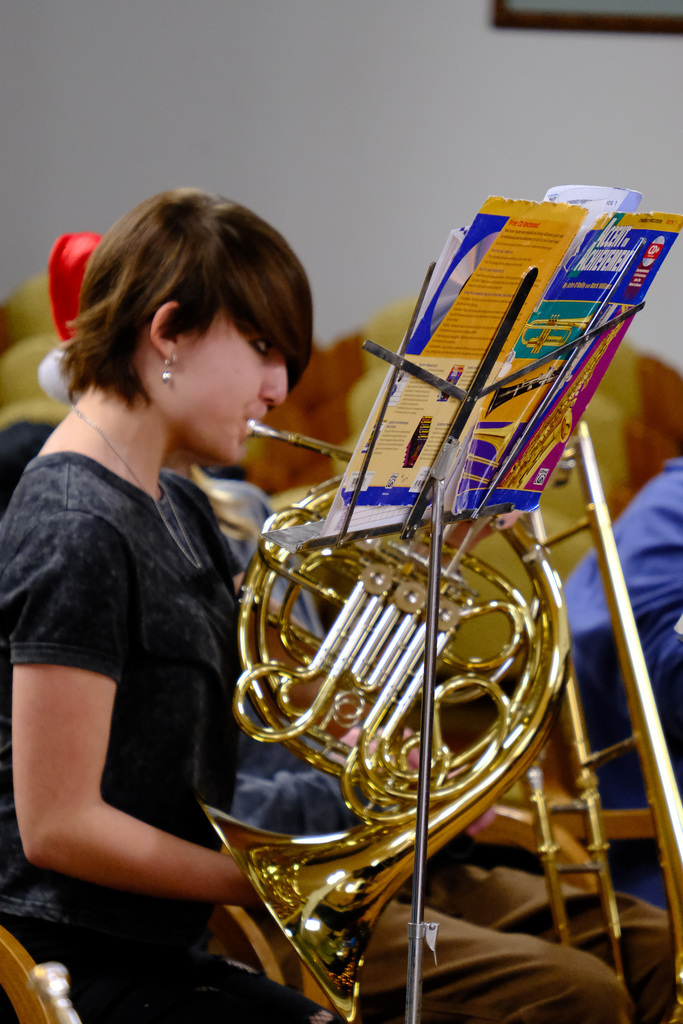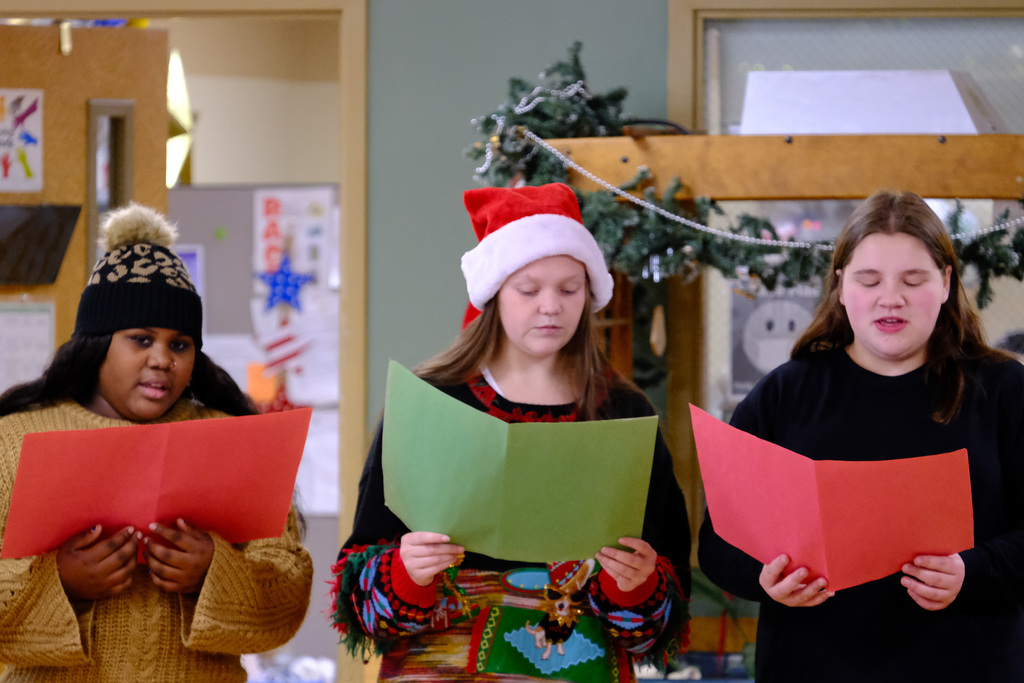 The first edition of the NLCS student newspaper is available now. Check out a digital copy here:
https://5il.co/1lhnt